Work on Dounreay's Shaft to be sped up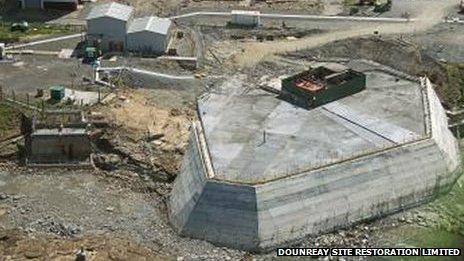 Plans to deal with one of the most controversial areas of the Dounreay nuclear site are to be accelerated.
Sunk in the 1950s close to the shores of the Pentland Firth, The Shaft plunges 65.4m (214.5ft) below ground.
It has been the subject of local legend, including the claim that one worker dropped his mother-in-law's ashes inside.
Radioactive waste was disposed there from 1959 to 1977, when an explosion ended the practice.
The new executive team at the nuclear complex in Caithness said work on the clean-up would be accelerated.
In a presentation to staff and sub-contractors, it said there would be a "renewed emphasis" on The Shaft and another area called The Silo - which has been described as being like a swimming pool with a concrete roof.
It was also used for dumping radioactive material from experiments at Dounreay.
The executive team said there would be a prompt start on the design of new facilities to deal with waste from both sites, and that the proposals would reach the planning stage quickly.
Babcock Dounreay Partnership, a consortium of UK and US companies, took over Dounreay Site Restoration Limited (DSRL) from the UKAEA in April.
In recent developments, a structure which looks like a massive concrete bunker has been built over the top of The Shaft.
Engineers are trying to create a barrier around it to stop water seeping inside through minute fissures in the surrounding rock.
Technology usually used to protect road tunnels in Scandinavia has been applied to the project.
About 200 boreholes have been sunk to a depth of 80m (262ft), before injecting a fine grout at high pressure into the holes.
In 2009, it was estimated that it would be 25 years before The Shaft would finally give up all its secrets.
However, Babcock Dounreay Partnership is aiming to have Dounreay cleaned up, its original buildings demolished and the site closed by 2023.
The colourful myths which surround The Shaft include claims that a former worker dropped his mother-in-law's ashes inside to comply with her wish to be scattered somewhere unusual.
An unwanted car was also said to have been disposed of at the facility, which is 4.6m (15ft) wide in places.
Related Internet Links
The BBC is not responsible for the content of external sites.