Deer and sheep 'trampling over' Ben Hope plant life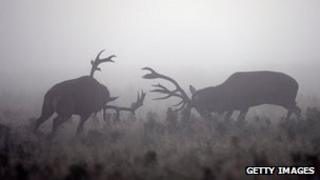 Fragile plant life growing near Scotland's most northerly Munro are being threatened by deer and sheep, according to a new report.
Ben Hope Site of Special Scientific Interest (SSSI) includes the 927m (3,041ft) mountain it was named after.
Scottish Natural Heritage (SNH) commissioned an assessment of what effect deer, sheep and cattle have on the site's blanket bog and heath.
The study suggests some areas were threatened by trampling.
Grazing by the animals was not found to have as great an impact on Sphagnum moss and lichen.
Certain areas of the SSSI in Sutherland were deemed to be under more pressure than others.
An Gorm-choire was one of the areas reported to be at most risk.
Deer and sheep were said to be damaging pools and water tracks, which were in turn reducing the spread and diversity of plant life.