UK peatlands in degraded state, UN and Wetlands International warn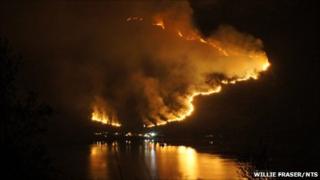 Peatlands in the UK - most of which are found in Scotland - are in a degraded state, international bodies warn.
CO2 released from damaged peat and blanket bogs was the equivalent to the average emissions of about 660,000 UK households, they said.
The Food and Agriculture Organisation of the United Nations (FAO) and Wetlands International said drainage and fires were among the threats.
They have launched a new initiative to highlight the plight of peat worldwide.
The Organic Soils and Peatlands Climate Change Mitigation Initiative was unveiled in Bonn, Germany.
Drawing on scientific studies, it sets out the state of peatlands and soils in Africa, Asia, Europe, Russia and South America.
Greatest coverage
The initiative report said: "Over 80% of UK peatlands are in a degraded state due mainly to past drainage, fire and grazing."
Scotland has the greatest coverage of shallow and deep peat, also bogs and fens.
It has about 13,363.7 square miles (34,612 square km) of shallow peat and 17,720 square km of bogs.
FAO and Wetlands International said private landowners - who own much of the peatlands - may be able to get European Union funding to support restoration efforts.
They added that conservation projects in the UK could guide efforts to protect similar peatlands in Ireland, Canada, Norway, Argentina and the Falklands.
Susanna Tol, of Wetlands International, said loss of peat across the world had to be prevented. She added: "We need to understand that these large emissions can continue decades or even centuries after peatlands have been converted into other uses.
"The key message we want to convey is that it is urgent to keep peatlands wet. When possible, we need to restore drained peatlands and make them wet again."