Argyll, Sutherland and Wester Ross may harbour rare chequered skipper butterfly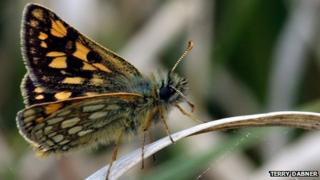 A search has been launched for new colonies of a rare butterfly which it had been thought could only be found near a town in the Highlands.
Chequered skippers survive within a 30 mile (48km) radius of Fort William after dying out elsewhere in the UK.
Its caterpillars feed on purple moor-grass which stays green for longer because of the area's climate.
Following research, scientists now believe the butterfly may also be found in Argyll, Sutherland and Wester Ross.
Studies by Butterfly Conservation Scotland (BCS) and the Joint Nature Conservation Committee (JNCC) suggest the availability of suitable habitat has been underestimated.
They have produced a table of areas where chequered skippers might be found.
The butterfly needs damp summers and mild winters which allow purple moor-grass to stay green late into the autumn.
This helps the caterpillars to complete their development before hibernating for the winter.
Elsewhere in the UK, the plant turns brown too early in the year for this to happen.
'Enigmatic butterfly'
BCS said chequered skippers were usually on the wing from mid May until the end of June.
It can be seen on warm and sunny days, even during brief spells of sunshine, feeding on nectar - particularly bugle, marsh thistle and orchids.
Senior conservation officer Dr Tom Prescott said: "The chequered skipper is a rare and enigmatic butterfly which we believe is probably more widespread than current records suggest.
"We have identified 100 1km-squares where we think the butterfly should occur but we do not have any sightings.
"We would like the public to get involved and see if this is true by looking for the butterfly in these areas."