Harbour seal numbers rise in Western Isles but fall in Firth of Tay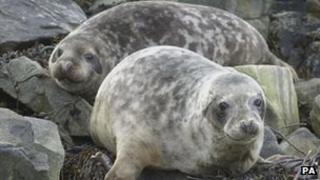 Harbour seal numbers have risen by more than 50% in the Western Isles but dropped to a new low in the Firth of Tay, according to a survey.
A count commissioned by Scottish Natural Heritage (SNH) found 2,739 in the Hebrides in August 2011, compared with 1,804 in the last survey in 2008.
But only 77 harbour seals were spotted in the Firth of Tay, which used to have a population of about 670.
Declines were also recorded along the coasts of the Moray Firth.
The survey was carried by University of St Andrews' Sea Mammal Research Unit.
Its scientists recorded a 51.8% rise in harbour seals in the Western Isles, where numbers had been in decline.
In a report for SNH, the unit said this represented the second highest count since the surveys began in 1992.
However, they added: "In the Firth of Tay only 77 harbour seals were counted in August 2011 compared with 124 in August 2010, a decline of 37.9%.
"This is the lowest count for the Firth of Tay and represents only 11.5% of the mean count of 670 between 1991 and 2002."
Fewer grey seals were recorded in 2011 than 2008 - 2,518 compared with 3,407.
However, warm sunny weather hampered efforts to count the mammals at one of its hot spots, the Monach Islands off North Uist.
The research unit said "surprisingly limited numbers" of grey seals were found at haulout sites - areas on the shore where the mammals emerge from the sea.
In their report, the scientists said: "There were large numbers in the water, particularly around Stockay, Ceann Ear, Ceann Iar and Shillay.
"It is possible that high ambient temperatures and prolonged sunshine forced greys to move off land into the water.
"Seals can overheat and the easiest way for them to cool off is by returning into the water."