Wild pigs threaten crops in Strathnairn, councillor says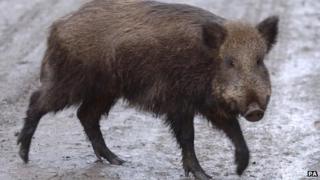 Free-roaming wild pigs threaten to damage crops in a part of the Highlands, a councillor has warned.
Believed to be a mix of wild boar and domestic pig that escaped from a farm, the animals have been spotted in the Strathnairn area near Inverness.
Local councillor Roddy Balfour said there were worries they will dig up potato crops.
Scottish Natural Heritage (SNH) has offered to advise farmers and households worried about the pigs.
Mr Balfour, councillor for Culloden and Ardersier, told BBC Alba: "If planted potatoes are being torn out it is going to create havoc in the community.
"Particularly at this time of the year when you are making a late start to the season and everything is now going well."
Mr Balfour said it was unlikely the pigs would be a threat to people's safety, but added that people might feel uncomfortable being close to them.
He said: "People are not going to enjoy their barbecues when there is a boar circling the garden fence."
Last year, feral wild boar were spotted searching for food in the gardens of homes in Invermoriston, near Loch Ness.
Residents have told the Highland News of seeing the pigs on their properties and nearby roads.
Trees for Life told BBC Scotland that the animals were not linked to a group it released on its nearby Dundreggan Estate in 2009.
The Forres-based charity said it was told of feral wild boar being seen around Invermoriston in August 2010.
In 2002, police were involved in efforts to catch a wild boar roaming between Newtonmore and Laggan. It was later shot by a local landowner.
Wild boar can be farmed under licence, but it is illegal to release them into the wild.
Groups of feral wild boar are found elsewhere in the UK, according to the Department for Environment, Food and Rural Affairs (Defra).
It said between 100 and 200 were estimated to be in Kent and East Sussex and about 20 to 30 in west Dorset.