Sound of Barra virtual tour planned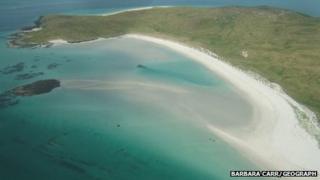 An online virtual tour could be created for a seabed at the centre of a row over moves to make it a special area of conservation (SAC).
Scottish Natural Heritage (SNH) said the resource for the Sound of Barra could go ahead irrespective of whether the designation proceeds.
Fishermen and Rory MacNeil, chief of Clan MacNeil of Barra, fear SAC status will restrict fishing in the sound.
Conservationists have described it as one of "Scotland's wildlife jewels".
They have said the area's sandbanks, reefs and harbour seal habitats need greater protection.
SNH has invited tenders to create "inspiring, interactive" moving graphics for its planned virtual tour, which would also be offered as a DVD.
In the tender document, the public agency said the tour would help to promote Barra as a visitor destination and educate people about the marine environment.
It would also raise awareness of the economic and social benefits of the sound, SNH said.
Management plan
The agency already has a pilot virtual tour for Loch Sunart in Argyll.
The one planned for the Sound of Barra would include 3D representations of its underwater landscape.
A contract could be awarded for the graphics element of the project in July.
A spokesman for SNH said: "The Sound of Barra is a spectacular location for marine wildlife.
"We're commissioning the virtual tour as part of our wider role in helping support nature based tourism and environmental education.
"It will promote the area to visitors, provide a resource for schools and raise awareness of how the environment is vital for social and economic reasons."
Earlier this year, it emerged that a management plan was being prepared for the conservation area.
However, the Scottish government said no final decision had been made on the proposal.