People confused by Single Transferable Vote, Highland Independents say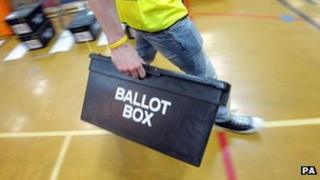 Voters failed to turnout in numbers for the council elections because they were confused by the voting system, Highland Council's Independent group has said.
It has suggested Highland Council set up of a working group to look at how to better engage people during elections.
The Single Transferable Vote (STV) was used at the elections on 3 May.
The turnout at polling stations in the Highlands was 41%, while the postal vote was 66%. There was a 53.85% turnout at the last election in 2007.
STV was also used in 2007.
Highland Council's administration is led by the SNP and involves Liberal Democrat and Labour councillors.
Margaret Davidson and Isabelle Campbell, who left the Lib Dems to become an Independent after the election, have put a motion to a full council meeting on Thursday.
The motion reads: "The Independent Group is very disappointed at the low turnout in the recent election and we believe people are confused by the STV system.
"We propose that this council forms a short life cross party working group to formulate proposals to Scottish government on ways of increasing voter turnout and engaging with the electorate."
STV sees voters rank their preference of candidates - first, second, third and so on.
A quota and formulae system then decides which candidates are elected based on the preferences.