Warm weather continues for the north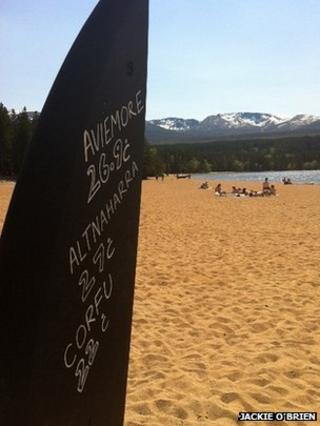 Temperatures in the Highlands and Islands are expected to rise to a maximum of 28C on Saturday, according to the Met Office.
The warm weather of the past few days continued on Friday with the highest readings being recorded in places such as Aviemore with 27C.
People were sunbathing on the beach at Loch Morlich, near Aviemore.
Snowsports fans wearing t-shirts also enjoyed what remained of the snow cover in the Cairngorms nearby.
A wind surfing board at Loch Morlich had temperatures written on it for Aviemore and Altnaharra in Sutherland - one of the hottest places in the UK earlier this week.
The board also showed a temperature of 22C for Corfu in the Adriatic.
Two polar bears at the Highlands Wildlife Park at Kincraig, near Aviemore, were given "meat pops" - blocks of frozen meat and blood - to help them stay cool.
The park's Arctic foxes were also fed frozen pieces of meat and fruit as treats.
Fort William in Lochaber, where some of the warmest weather was expected, had a reading of 26C.
Temperatures were cooler on the east coast with 14C in Wick and Nairn and 15C in Inverness.
Forecasters expect the temperature to rise to 20C in Inverness on Saturday and for the warm weather to continue for much of Scotland into next week.
The Mountaineering Council of Scotland has urged walkers and climbers to take plenty water with them into the hills over the weekend.
The mercury has been hitting the 20s since Wednesday.
The record temperature for May in Scotland was 29C, which was set in Edinburgh in 1992.