Diamond Jubilee: Beacon lit on summit of Ben Nevis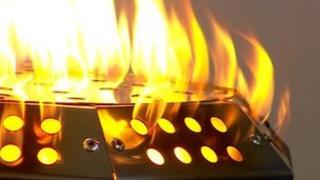 A team of injured service personnel are among a group who climbed Ben Nevis to light a beacon in honour of the Queen's Diamond Jubilee.
The 52-man team, who are taking part in the Help for Heroes Jubilee Challenge, included 11 people from the Personnel Recovery Centre in Edinburgh.
The beacon was lit by David Timmins, previously a lance corporal in the Royal Logistic Corps, on Monday night.
The 31-year-old ex-serviceman is from Neilston, East Renfrewshire.
He was caught in an IED explosion in Helmand Province in Afghanistan in 2009. Since then he has been in recovery after losing an eye and suffering paralysis down one side of his body.
He said: "I was actually signed out of the army because of my injuries last week and doing this was my last chance to do something with the army.
"Being fit keeps me going and kept me alive after the explosion.
"This is a great thing to focus on."
Wounded soldiers
Captain Fraser Dowling, 2nd Command of the Personnel Recovery Centre in Edinburgh, said taking part in the beacons project had been "thoroughly enjoyable".
He said: "It was magnificent. It's been absolutely fantastic seeing so much determination to get up there and be involved in it."
The beacon was one of 4,200 being lit in the Queen's honour across the globe.
The wounded soldiers were also be joined by volunteers from RAF Kinloss Mountain Rescue Team, as well as service men and women from across the UK.
The other locations hosting beacon ceremonies in Scotland included McCaig's Tower in Oban, Edinburgh Castle and the Palace of Holyroodhouse.
See all the latest Diamond Jubilee news and features at bbc.co.uk/diamondjubilee