Dounreay staff urine charts fall in radioactive exposure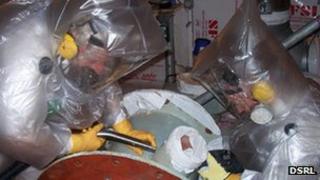 Urine samples have shown a fall in exposure to uranium and plutonium among workers at a nuclear power complex.
Employees most likely to come into contact with the radioactive elements at Dounreay in Caithness provide samples annually.
Dounreay Site Restoration Limited (DSRL) said the testing shows a downward trend in the very low levels of uranium and plutonium in the urine.
DSRL said improvements to protective suits and other measures were factors.
Buildings and reactors at the experimental nuclear power plant are being dismantled and the site is being cleaned of contamination.
DSRL said the last 10 years had seen improvements in controlling, detecting and protecting workers against exposure to radioactive material.
In a newly-published report , plutonium in urine was reported to have followed a general decline since 2006.
Levels of uranium has generally been falling since 2005, but with a peak in 2008 when there was an increase in the decommission work.
Exposure to radioactive isotope caesium 137 also rose in 2005 following a radioactive spill in the Dounreay Cementation Plant.
Levels of 137C dropped off after operations to clean up the spill finished in 2008.
Pete Thompson, head of radiological assurance and safeguards at site closure contractor DSRL, was one of the report's authors.
He said: "Our over-riding priority is to close down this site without harm to people."