Attempted subsea cable theft takes out phones and internet in Highlands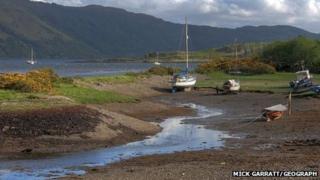 Thieves caused a major failure of phone, internet and cash machine services while attempting to steal a fibre optic subsea cable.
BT said the problem had affected the areas served by exchanges at Ardvaser, Balallan, Duntulm, Glendale, Glenshiel, Kilillan, Scalpay, Skeabost and Uig.
Eight of the Highland exchanges have since been restored, with efforts ongoing at Skeabost.
BT said the thieves had mistakenly thought the cable contained copper.
The 1,000m (3,281ft) cable crosses Loch Carron between the villages of Lochcarron and Strathcarron in Wester Ross.
The thieves damaged it while trying to dig it up at low tide on Thursday.
Efforts to assess the damage have been hampered by the return of high water.
Telephone services have been restored by using alternative routing.
At the height of the problem, 9,000 customers were affected. BT said 344 customers had still to have services restored.
Broadband and cash machines in the affected areas were also offline for a time.
A BT spokesman said: "This attempted theft is causing huge disruption of service and inconvenience to our customers but it is symptomatic of the times we live in.
"Metal theft is a growing problem affecting many industry sectors across the UK."
He added: "Attacks on BT's network are generating tens of thousands of faults each year, causing huge frustration to telephone and broadband users."