Engine fire caused Lossiemouth Tornado to crash near Gairloch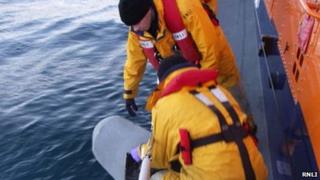 An uncontrollable engine fire caused a Tornado GR4 jet to crash into the sea off north west Scotland last year, according to an RAF inquiry.
The aircraft - based at RAF Lossiemouth - suffered a problem in its right engine while on a training mission.
The pilot and navigator managed to eject to safety and were treated in hospital in Inverness.
An RAF board of inquiry investigation said the crew had acted calmly and professionally.
The jet came down in the Minch near Gairloch on the Scottish mainland on 27 January 2011.
Following the crash, Stornoway lifeboat crew recovered some pieces of wreckage floating on the sea's surface.
The RAF board of inquiry found that a fire broke out in the right engine 47 minutes into the training flight. The crew ejected eight minutes later.
The cause of the incident was the failure of a part within the right engine, caused by a foreign object or fatigue, which led to an uncontrollable fire in the rear fuselage, with temperatures reaching up to 1,667C.
The report said the Tornado pilot received no indication in the cockpit of the severity of the fire, and the fire suppression system could not cope.
Recommendations included all fast jet aircrew being fitted with automatic personal locator beacons as the ones in use at the time failed to provide an accurate position to aid their recovery.