Scottish government to appeal Western Isles school closure review decision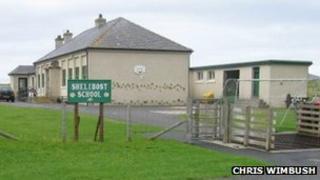 The Scottish government will appeal the result of a judicial review that found in favour of a council's decision to close four schools.
Comhairle nan Eilean Siar went to court to challenge the government's opposition to the closures and won.
The comhairle will discuss the future of Carloway and Shelibost primaries and provision of S1 and S2 education at Shawbost and Lionel next week.
The government said an appeal would suspend any move to shut the schools.
Education Secretary Michael Russell said: "I understand that this is a time of great anxiety and uncertainty for all four communities involved.
"However, after very careful consideration of the recent judgement on proposals by comhairle to close two of its schools and reduce the stages of education available in two of its other schools, the Scottish government has decided to lodge an appeal.
"As a result, the effect of the judgement will be suspended and cannot be implemented pending the outcome of the appeal."
Mr Russell said he understood that the schools would not now close on 29 June as had been previously planned by the comhairle.
On Tuesday, the local authority's education committee voted nine to eight to reject a motion asking the authority to throw out the proposals.
The comhairle previously said it could not afford to keep open Carloway and Shelibost primaries and continue S1 and S2 education at Shawbost and Lionel.
The plans will be discussed again by the full council next week.