Assynt Mountain Rescue Team to scale Spidean Coinich 17 times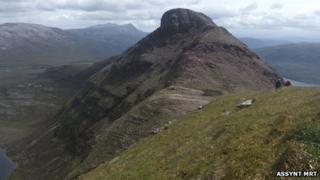 Eight members of Assynt Mountain Rescue Team plan to climb a hill top in their patch 17 times in under 24 hours to raise funds.
Taking it in turns, they hope to total 8,908m (29,226ft) of walking - more than the equivalent height of Everest.
In four teams of two, they will tackle 764m (2,506.5ft) Spidean Coinich, but starting from 240m (787ft) up the hill.
Members involved include Bob Kerr, who has been preparing for real ascent of Everest next year.
Each of those taking part will make the walk four to five times.
The rescue team, which has members from across Caithness and Sutherland, will make its fund-raising attempt at the weekend.
Training officer Charlie Macleod said: "It is a stunning hill and the challenge to keep going for 24 hours will no doubt have its moments but we are looking forward to giving it a go."
Mr Kerr added: "Physical fitness is really important in making a successful attempt on the world's highest peak.
"An Everest summit day is a very long and taxing one. This challenge will no doubt stand me in good stead for the real thing next year."
Spidean Coinich is one of three Corbetts - hills of 2,500ft (762m) to 3,000ft (914.4m) - that are summits on a mountain called Quinag.