Tree sparrows breeding again on Lewis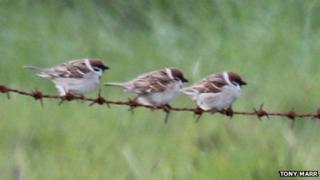 Tree sparrows have again been breeding on Lewis in the Western Isles after the birds appeared on the island in 2011 - the first time in 25 years.
A pair of sparrows have been seen at one of several new nest boxes put up to encourage the species to breed.
Smaller than house sparrows, the species is resident in southern Scotland and in England and Ireland.
RSPB Scotland believed that warm southerly winds had enticed the sparrows further north than normal.
The pair seen so far this year were spotted by local birdwatcher Tony Marr.
He said: "We were not sure whether 2011 would prove to be a fluke, so it is great news to be able to confirm that a pair of tree sparrows has taken up possession of one of the new nest boxes and the adult birds are being seen regularly at the box.
"They are a very secretive species and difficult to observe, but we hope to see this pair feeding young very soon."
Mr Marr added: "Up to four other tree sparrows have been seen together in the vicinity in recent weeks, although not proved to be breeding, and we hope we can attract them too."
The UK tree sparrow population suffered a severe decline between 1970 and 2008, according to the RSPB.
However, breeding bird survey data gathered by the RSPB last year suggested that numbers may have started to increase.