Warnings over Scottish west coast prawn fishing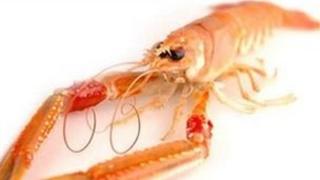 West coast fishermen have warned that larger trawlers from Scotland's east coast threaten this year's prawn fishing in the Minch.
They fear the EU limit on the time vessels are permitted to fish will be reached earlier than normal and the fishery will be closed by September.
Western Isles Fishermen's Association said management measures should have been put in place.
The Scottish government said it was aware of the concerns.
Association secretary Duncan MacInnes said the government had not carried out a risk assessment of the implications of allowing larger vessels into the Minch.
West coast fishermen have concerns they will not be allowed to catch their full quota.
The Scottish government said it was aware of industry concerns about "unusually intense" fishing off the west of Scotland and possible implications for the fishing effort - the number of days boats are allowed at sea.
A spokesman said a lack of prawns in North Sea fishing grounds had caused some displacement of fishing activities into the west.
He said Marine Scotland was monitoring the situation carefully.
The spokesman added: "The issue was discussed at the meeting of the Fisheries Management and Conservation Group last week and Marine Scotland has agreed to take forward discussions with industry experts on any likely action to mitigate the situation."