Parents of pupils at Highland school in protest over teaching posts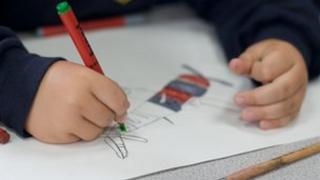 Another small Highland school is at the centre of a row over the continuity of teaching staff.
Parents of pupils at Lady Lovat Primary in Morar are unhappy that there will be a 100% turnover of staff this summer.
The head teacher has retired and parents have been upset that a popular probationer has not been able to apply for a full-time teaching post.
Highland Council said it had an obligation to give probationers 12 month contracts at schools.
Some parents of pupils at Lady Lovat - where the roll of 18 will rise to 20 after the summer holidays - will hold a protest outside the primary later.
It will be the second demonstration by parents this week.
Parents of pupils at Kilmuir Primary on Skye, where Gaelic and English are taught, have demanded that a permanent appointment is made to the English-language post.
They said pupils have had seven probationary teachers in as many years.
After the summer break, Lady Lovat's teaching staff will all be new, sparking concerns among parents about the lack of continuity affecting their children's education.
The three teachers will include a new probationer and a cluster head teacher.
The new head will also have responsibility for a primary in Inverie, the village has no road to it and is reached by a ferry from Mallaig, and the care and welfare of schools on the islands of Rum and Canna.
There are no pupils on the island schools' rolls at the moment.
In a statement, Lady Lovat parent forum said its request to Highland Council that the current probationer be allowed to stay on had been ignored.
The forum said: "They consulted parents about staffing and encouraged us to accept a new cluster head.
"Parents asked for some stability and permanence to counter this, by allowing our current, excellent, young, local teacher to apply to continue teaching in the school.
"The council wholeheartedly agreed with us that this would be the ideal situation, and that a probationer would be 'unwise' in the circumstances."
The local authority said officers had not given a guarantee that a probationer would not be allocated.
A council spokesman added: "There is a national commitment to the teacher induction scheme.
"Highland is no different from any other local authority in Scotland in that we are obliged to provide the next generation of teachers with a 12 month contract.
"Our experience of this scheme has been very positive with the vast majority of probationer teachers allocated to Highland being bright, enthusiastic individuals who have performed very well during their 12 month contract."