New row over Scotland's emergency tug cover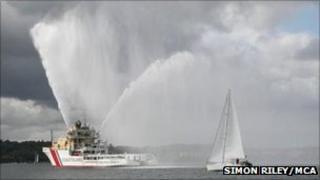 The UK government and SNP have clashed over the cost of providing temporary emergency tug cover for Scotland.
Western Isles MP Angus MacNeil said the stopgap provision cost £80,000-a-month more than the full-time service axed by the UK government.
The government said costs could not be compared like-with-like, adding it was "surprised" to be attacked for taking the "positive move".
Temporary cover ended earlier this year.
For 10 years, two tugs were hired by the Maritime and Coastguard Agency (MCA) to go to the aid of stricken vessels off Scotland's west and northern coasts.
The UK government moved to end the contracts in late 2011 before agreeing to short extensions until March this year.
But earlier this month, it was announced funding for a tug to work "around Scotland's coast as required" would be provided until 2015.
Mr MacNeil said the UK government should not have ended the original service and stuck with it, avoiding the need for temporary measures.
He said: "Only Westminster could make cuts in the name of cost cutting but, after two years of uncertainty, land taxpayers with an even bigger bill for half the service.
"This has been a farce from start to finish and the Scotland Office still have serious questions to answer - whether, for example, cancellation of the original contract incurred any penalties."
The UK government said a 10-year contract for a larger number of boats, and also changes in fuel costs, did not compare like-with-like to costs for temporary cover.
A spokesman said: ‪"The UK government has gone to great lengths to provide emergency towing vessel cover to the end of the spending review.
"This was done after consultation with the Scottish government, local authorities and a range of other organisations.
"It is the UK government which is covering the cost for this service for the people of Scotland and we have secured the best value for money within the parameter and constraints."