Stromeferry bypass solution costs revealed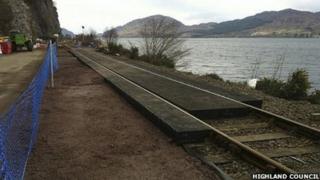 Highland Council has revealed the estimated costs of potential long-term solutions to the trouble-hit A890 Stromeferry bypass in Wester Ross.
The latest in a number of landslides to affect the route closed it from 22 December 2011 to 23 April this year and cost the council £2.8m to deal with.
The bypass plays a part in taking traffic around Loch Carron.
Options include a £60m bridge, 1.2 mile (2km) tunnel costing £94m and a new, longer bypass running to about £23m.
The tunnel is one of six ideas for improving the existing stretch of road.
The other five options include stabilising the rock face next to the Stromeferry bypass at £69m.
Also, a £109m project involving cutting rock from the hillside and widening the road, extending an avalanche shelter on the road at a cost of up to £104m.
Dumping tonnes of rock into Loch Carron to give enough space for a new stretch of road next to the nearby railway line has been estimated at £115m.
The final option suggested will be to carry out repairs when needed. Highland Council has calculated that could cost £10m over 20 years.
The potential solutions will be outlined at an exhibition and a public meeting in Lochcarron Village Hall on Monday.
Graham Phillips, chairman of Highland Council's transport environmental and community services committee, will chair the meeting.
He said: "We very much welcome the views of the public on the options we will be displaying at the exhibition and others that we may have overlooked.
"This will be the first of a number of consultations with the public as we take the project through its various stages of design development."
The A890 helps to connect Lochcarron to Plockton, and its high school, and eventually with Kyle, on the opposite side of Loch Carron.
The road runs across the top of the sea loch to link up with the A896, the main road to Lochcarron.
While the bypass was closed, drivers faced having to take a 140-mile (225km) diversion, instead of the usual 18 miles (29km) from Lochcarron to Plockton.
A small car ferry, a pleasure cruiser and train services were all utilised in an effort to ease the travel headache for locals.