Rare freshwater pearl mussels stolen on Harris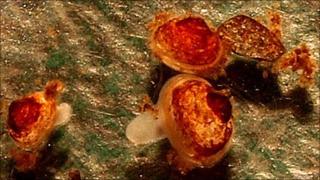 Police are investigating the theft of breeding colonies of rare freshwater pearl mussels from remote areas of Harris in the Western Isles.
Northern Constabulary said poachers could be involved, but added that they may have been taken by someone unaware of their legal protection.
Scottish freshwater pearl mussels are an endangered species and protected under the Wildlife and Countryside Act.
It was not clear when the shellfish were taken.
Last year, Scottish freshwater pearl mussels joined giant pandas and Javan rhinos on a list of 365 of the world's "most endangered species".
Species on the Edge of Survival was put together by the International Union for Conservation (IUCN).
It keeps a red list of threatened wildlife using information gathered by scientists and conservationists.
Habitat loss
The IUCN said the list was the most complete scientific knowledge on the conservation status of known species.
The pearl mussels were included because of the threat posed by poachers and habitat loss.
In 2010, a survey suggested about 75% of the country's internationally-important pearl mussel sites had been damaged by criminals.
Criminal acts ranged from illegal pearl fishing to unauthorised river works which resulted in the destruction of entire pearl mussel populations.
Scottish Natural Heritage (SNH) said the destruction was "shocking".
Scotland has a total of 21 designated sites for pearl mussels, with Scottish rivers holding about half of the world's population of the species.