Backing for Beinn Eighe Unesco Biosphere Status bid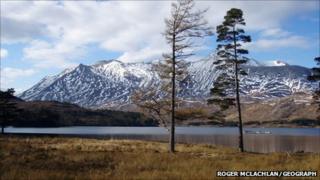 There is backing in Wester Ross for a bid to gain a Unesco designation for one of the area's best known mountains, a local community group has said.
Beinn Eighe National Nature Reserve has held Biosphere Reserve status since 1976.
But the criteria has been changed and a fresh application for the status would be required.
Wester Ross Alliance, a community development organisation, said there was broad support for a potential bid.
The designation gives areas greater international recognition among scientists and tourists.
The BBC Scotland news website reported earlier this month that the alliance was working with the Centre for Mountain Studies UHI in Perth to investigate how the status could be secured.
Reaching a height of 1,010m (3,314ft), Beinn Eighe is one of Scotland's 283 Munros, mountains of more than 914.4m (3,000ft).
The Beinn Eighe National Nature Reserve is Britain's oldest, having been created in 1951. The reserve is managed by Scottish Natural Heritage (SNH).
As many as 50,000 hillwalkers visit the area every year, according to the heritage agency.