Caithness and Sutherland populations 'ageing faster'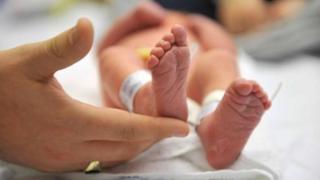 The populations of Caithness and Sutherland have been ageing faster than the rest of the Highlands and Islands as a whole, according to a new report.
In 2010, 21% of people in the far north were 65 years or older compared with 19.7% for the wider region and 16.8% for Scotland.
The winding down of work at the Dounreay nuclear complex has been included among the likely causes.
Work demolishing and cleaning up the site is to be finished by 2022.
All that will be left at Dounreay will be nuclear waste stores.
The newly-published report, The Socio-Economic Impacts of Dounreay Decommissioning, was commissioned by Highlands and Islands Enterprise (HIE) and Dounreay Site Restoration Limited (DSRL).
Among its findings was that the population of Caithness was marginally younger than the rest of the Highlands and Islands.
However, along with neighbouring Sutherland, it has been ageing faster than the wider region.
A reduction in employees at Dounreay - leading to younger people leaving or less willing to stay in the area - was said to be among the likely factors.
HIE said a key, positive conclusion of the study was that the percentage of local jobs dependent on Dounreay had fallen from 15% to 10% since 2006.
The public agency said the number of new businesses being created in the local area had increased.
The renewable energy and tourism industries have opened up new opportunities for work in the far north, the report said.
Sir Anthony Cleaver, chairman of Caithness and North Sutherland Regeneration Partnership, said the running down of operations at the nuclear plant had been a cause for concern.
He said: "Whilst there can be no room for complacency, these results are encouraging on a number of levels, not least because they take place against the wider backdrop of economic uncertainty we have seen in the last few years.
"Twice as many Dounreay workers are expressing an interest in setting up a business, and from a position in 2006 where the area lagged behind the rest of the Highlands and Islands in business start-up rates, we now see very healthy levels of new business creation."