Pants artwork 'stimulated debate' says Highland Council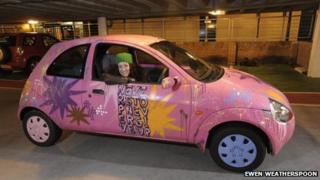 An exhibition of underwear made from papier-mâché has been held up as an example of how public art can "engage communities and stimulate debate".
What's Pants About Inverness? was staged by artist Sarah Barnes during a wider street art event in 2006.
Highland Council is consulting on its public art strategy. The exercise closes on 6 July.
The strategy aims to build on the work of the Inverness Old Town Art (Iota) project.
Barnes' exhibition, which gets a mention in the consultation document, was part of Imagine the Centre event.
It was one of a series of events and temporary and permanent artworks arranged during a £6m revamp of city centre streets.
Barnes's aim was to encourage debate on what good things were happening in Inverness.
Iota's other projects have included covering cars and vans in graffiti - with the owners' consent.
Also, knitting covers to go over ancient gravestones and the installation of the Three Virtues sculptures in Church Street.
Last year, the story of a Scots soldier who chose not to talk for 50 years helped to inspire artwork forming part of the Crown Road wall's £60,000 renovation.
A large section was decorated by artist Mike Inglis.
Some of the designs were influenced by items woven from grass and leaves by former Lovat Scout Angus MacPhee.
Mr MacPhee, who died in 1997, took ill while garrisoned on the Faroes in 1940 and was later a psychiatric patient.
Inglis's artwork also references the Scottish clan system in depictions of two groups of young people, with one of the groups comprising youths with deer heads.
Public art in other parts of the Highlands, have included painting the exterior of the John O'Groats Hotel red and white.
A new arts project will also celebrate John O'Groats beaches that lost their white sands to the Dig for Victory campaign during World War II.
The sand was prized as a soil improver due to the large volume of empty and broken shells it contained.
With food rationed, Dig for Victory encouraged people to grow vegetables in their gardens and allotments to help feed themselves and others.
Stones carved with images of how the beaches had looked are to be created.
Sutherland-based artist Gavin Lockhart has been commissioned to undertake the £15,000 public arts project.
It is part of wider efforts led by Highlands and Islands Enterprise (HIE) to revamp John O'Groats.