Skye charity concerned about UK otter numbers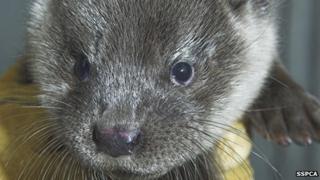 Populations of otters in the UK may not be as high as previously thought, according to a conservation charity.
Skye-based International Otter Survival Fund (IOSF) said there were gaps in accurate information on the animals.
It will host a conference in Edinburgh in November featuring experts invited from Austria and the Czech Republic, along with the fishing industry.
IOSF hopes to establish a working group to lead efforts to better understand and protect the mammals.
Scientists and representatives from angling communities and the fish farming industry will be asked to be involved in the conference and the working group.
Dr Paul Yoxon, IOSF head of operations, said information on otter numbers was confusing.
He said: "The data simply isn't available to say that otters are everywhere.
"On the one hand we are being told that there is a drought and fish are having to be rescued from drying rivers, and on the other hand we are hearing that there are loads of otters.
"Both cannot be true."
Dr Yoxon added: "We want to work with people involved in fishing to resolve conflicts before they become serious."
IOSF hopes a 10-member working group can be formed at the conference on 7 November, and will meet for the first time in 2013.