Former Rangers owner Craig Whyte fined for speeding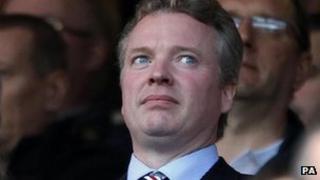 Former Rangers owner Craig Whyte was unaware he was breaking the speed limit on the A9 as he drove to a meeting with police, a court has heard.
The 42-year-old had agreed to meet officers about the security of Castle Grant, his property in the Highlands, after it was targeted by vandals.
Inverness Justice of Peace Court heard he had been driving at 87mph.
Whyte was fined £280 and had four penalty points imposed on his licence, which already had six points.
Whyte, who did not appear in court, was caught speeding in a 60mph zone at Nuide between Dalwhinnie and Aviemore on 29 March.
His solicitor Paul Kavanagh said his client was still involved with Rangers FC at the time.
"In early March his house had been subject to graffiti and he had received a call about another possible security breach," he explained.
He said his client had accepted an invitation from Strathclyde Police and Northern Constabulary.
He was stopped by police while returning from various business meetings in London.
"All that was on his mind was the security of his house," added Mr Kavanagh.