Five European wolf pups born at Highland Wildlife Park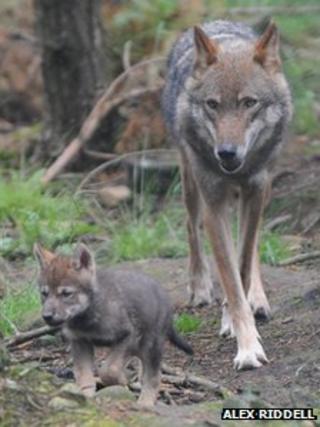 Five European grey wolf pups are the first to be born in the Highlands in 12 years.
Now six weeks old, the wolves have still to be sexed by staff at the Royal Zoological Society of Scotland's Highland Wildlife Park at Kincraig.
Wolves in the wild in Scotland were thought to have been hunted to extinction in the 1700s.
Douglas Richardson, animal collection manager, said wolves had been an "iconic" animal at the park since 1972.
The park's keeping of wolves has attracted criticism in the past from campaigning group OneKind, formerly Advocates for Animals.
In 2006, a pack of six Mackenzie River wolves - a North American wolf - were put down because they were "not portraying their natural behaviour".
Four years later, a female wolf escaped from its enclosure into another secure area. It was recaptured.
Following the incident, Mr Richardson said public safety was never at risk, claiming that a pet hamster would have posed a greater threat of inflicting injuries than the escapee.
On the births of the five pups, Mr Richardson said on the park's Facebook page: "We have made a number of changes to how we manage the species over recent years and it is personally very rewarding to watch this litter being reared.
"The pups, especially one particularly bold individual, are now beginning to wander around the large wooded enclosure, which does seem to cause their mother some anxiety.
"The park is visited by quite a number of people with a special interest in wolves and it is hoped that this latest breeding success will generate further interest in this much maligned species, especially as it is an animal that formerly roamed over most of the country."
A carved stone by the side of the A9 near Brora claims to mark the site where the last wolf in Sutherland was killed by a man called Polson in 1700.
According to research done by Glasgow Zoo, now closed, the wolf was regarded as a common enemy.
Chieftains and royalty led hunts.
One attended by Queen Mary in 1563 employed 2,000 Highlanders and ended in the deaths of five wolves and 360 deer.
Huge swathes of forest in Perthshire, Lochaber and Argyll were systematically destroyed to deprive wolves of their habitat.