Tug Anglian Prince returns to Scotland as Herakles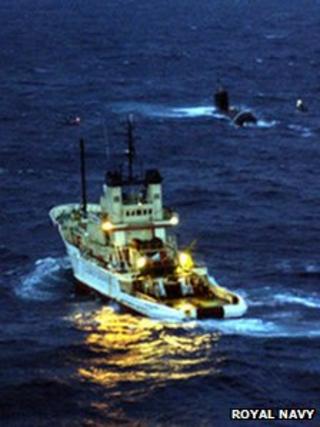 An emergency tug that will provide cover for Scotland's islands and north west coast had previously operated in the waters, but under another name.
The Maritime and Coastguard Agency has confirmed the towing vessel Herakles will work from a port on Orkney.
But the boat had previously fulfilled the duties with a previous owner and under the name Anglian Prince.
In 2010, the vessel went to the aid of Royal Navy submarine HMS Astute after it ran aground off Skye.
The Anglian Prince was also involved in the rescue of Canadian submarine, HMCS Chicoutimi, in 2004 after fire broke out onboard.
JP Knight sold the tug to a Swedish company in 2011 after the UK government brought to an end the contracts for emergency towing vessels - including two in Scotland.
Following the sale, Anglian Prince was renamed Herakles.
Campaigning by four Scottish councils and politicians led the UK government to agree to fund one tug to cover Scotland until 2015.