Aspen tree owners asked for dead wood for rare fly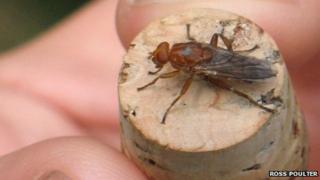 People with aspen trees growing on their property are being asked to donate dead wood to help one of the UK's rarest invertebrates.
Aspen hoverfly are thought to only live in the Highlands and lay eggs in decaying trees at just 13 locations.
A new habitat is being created at the Highland Wildlife Park, near Aviemore.
Ross Poulter, of Edinburgh Zoo and has been working on the project for four years, has sought rotting wood for the habitat.
Mr Poulter said: "The key reason they are so rare is due to the lack of large stands of mature aspen trees and the conditions they need to lay eggs.
"It is so specific and not that easy to locate in the Highlands."
He added: "I would ask anyone who has mature aspen trees on their land, who might be looking to fell them or has already got a fallen one, to get in contact with me.
"I would be able to put this to good use and provide these endangered hoverflies with a breeding site for a couple of years."
Scotland is also home to the endangered pine hoverfly . It is only known at two locations in the Highlands.
Too dry
Aspen hoverfly need a particular set of conditions for a successful breeding season, according to Edinburgh Zoo.
The larvae need the rotting wood of a fallen mature aspen.
Adult flies are attracted to suitable sites by sap that gathers in the bark.
However, it takes about two years from when the tree falls for the wood to be in the right condition for larvae to grow.
Edinburgh Zoo said the dead wood did not last long.
Usually it is too dry for the flies after two years forcing them to seek out other trees.