Man breached sex offences order in Dingwall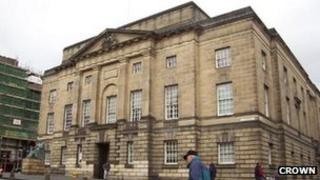 A man banned from approaching children who are on their own, or with an adult, followed a mother and her young son, the High Court in Edinburgh has heard.
Lloyd MacDonald, 18, followed the pair on his bike and tried to talk to the woman in Dingwall, Ross-shire, in March this year.
MacDonald was the subject of a Sexual Offences Prevention Order at the time.
The Crown has sought a full risk assessment which could lead to an Order for Lifelong Restriction.
MacDonald, who is being held in Polmont young offenders' institution, admitted a breach of the peace following the incident in March.
At the time he was the subject of the prevention order.
It barred him from entering the grounds of any school, nursery, play area or public toilet, from approaching or communicating with any child or an adult with a child and from accessing the internet without permission.
Advocate depute Leanne Cross said the Crown was seeking a full risk assessment order to be made on MacDonald, which can result in an Order for Lifelong Restriction being imposed.
Ms Cross said MacDonald had two previous convictions, one which led to him being jailed for eight months and placed on the sex offenders register.
Risk assessment
The court heard that in March he followed the mother and her child, who was in a pushchair, as she walked home from a shopping trip.
MacDonald tried to talk to her and frequently stopped and stared at her and her son, causing the woman distress.
Judge Lady Stacey said that the details of the breach of the peace amounted to breaking the terms of the Sexual Offences Prevention Order.
She told: "I have decided to get a report from the risk assessment authority on you in order that I might be fully informed before sentencing."
The case has been continued until October.