Rise in mountain rescue team call-outs in Scotland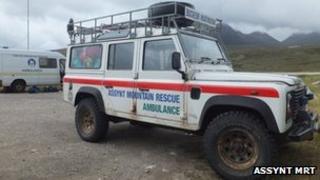 Scottish mountain rescue teams dealt with more incidents in 2011 than they did the previous year, according to newly-published figures.
Teams were called out to 573 incidents last year, up from a figure of 534 in 2010.
Fifty-two people died in 2011 compared with 45 in the previous year.
Scottish Mountain Rescue, which compiled the figures, said the general trend over the past 10 years had been for a rise in the number of incidents.
The report said summer hillwalking was the activity which resulted in the highest number of incidents.
Mobile phones were the most common method of asking the emergency services for assistance.
Jonathan Hart - chairman of the Mountain Rescue Committee of Scotland, which heads up Scottish Mountain Rescue - said he was "immensely proud" of the 1,100 people involved with mountain rescue teams.
He added: "I expect that visitor numbers to Scotland will continue to increase over the next few years - with many visitors, and residents alike, seeking to explore and enjoy our outstanding natural scenery.
"And I expect the demand for both mountain and cave rescue services will continue to increase."
Rescue teams receive funding from the Scottish government and St John Scotland, but teams also raise their own funds.