Halkirk crossing deaths FAI ruled out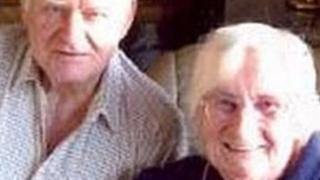 The deaths of three people whose car collided with a train at a level crossing in Caithness will not be examined at a fatal accident inquiry.
Angus MacKay and his wife Margaret, both 81, from Inverness, and Mr MacKay's brother Donald, 66, of Latheron, died in the incident.
The crash happened at an unmanned, gate-free level crossing in 2009.
The Crown Office said that after "careful consideration" of the facts an inquiry was "not appropriate".
Angus MacKay's son Donald, 51, from Inverness said he was "very disappointed".
He was informed of the decision in a letter from the Crown Office and Procurator Fiscal Service.
The letter said Crown Counsel had noted that Network Rail had taken "responsible actions" and had made improvements following the incident.
It also said counsel had noted that Donald MacKay "may bear some responsibility for the collision".
However, Mr MacKay believes the line refers to his father, who was driving, and not his 66-year-old uncle who was a passenger.
Mr MacKay said: "For about a week after I got it I felt like I was walking about spitting feathers. It's really depressing."
The Rail Accident Investigation Branch (RAIB) published a report following the incident in Halkirk.
In the report, the RAIB said Network Rail "did not properly understand the risk" at the site because it had not taken a record of four previous accidents - one of them fatal - into account.
The branch said: "Had it done so, the level of risk might have justified more costly risk reduction measures, and risk reduction measures that had been identified might have been implemented more quickly and before the accident occurred."
Six recommendations were made on improving safety at the site.
One - upgrading the crossing so that it has a locally monitored automatic barrier - was investigated by Network Rail.
According to the RAIB report, the company concluded that "it would not be reasonably practicable to upgrade the crossing".
The RAIB also said Mr MacKay may not have seen, or had misinterpreted, the warning lights at the level crossing.
A review of his eyesight records concluded that, on balance of probabilities, his sight had not met the standard set by the Driver Vehicle and Licensing Authority (DVLA).
The RAIB also said it appeared that Mr MacKay was not wearing spectacles to improve his distance vision, which he had been advised to do at eyesight examinations in 2006 and 2009.
The Crown Office said the procurator fiscal at Wick, in Caithness, received a report in connection with three deaths.
A spokeswoman said: "After full and careful consideration of all of the facts and circumstances, independent Crown Counsel concluded that it was not a case in which it would be appropriate to hold a FAI.
"The case is now closed."