Helicopters used most in Scottish mountain rescues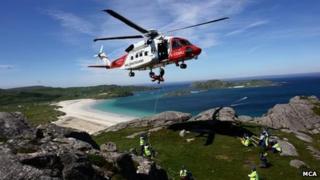 Airlifts were the most common method of getting injured climbers and walkers to safety last year, according to Scottish Mountain Rescue.
Helicopters were used on 157 occasions, with crews at RAF Lossiemouth in Moray going to 90 incidents and Royal Navy Gannet crews in Ayrshire to 60.
In 146 incidents involving mountain rescue teams last year no evacuation was required.
Seventy-one incidents saw the people walked off the hills by rescue teams.
Team members carried casualties on stretchers in 65 incidents.
The figures are contained in the latest annual report published by Scottish Mountain Rescue, which is headed by the Mountain Rescue Committee of Scotland.
The report said the reliance on helicopters was interesting given civilian contractors will be taking over air search and rescue duties from the military in the near future.
Under UK government plans, the RAF and Royal Navy are to give up providing the helicopter cover by 2016.
The move will see the military's ageing Sea Kings replaced by newer helicopters operated by a civilian contractor.
Earlier this year, Kintail Mountain Rescue Team said it would seek early training with the contractor that wins the work.
The team said it would wish to train with the crews before they took over the duties fully.
It said its members would need to adapt their skills to working with the newer, more powerful helicopters.
Also, Kintail MRT said the new service may benefit from the experience of mountain rescuers.
Meanwhile, the Ministry of Defence said RAF Kinloss Mountain Rescue Team will remain at Kinloss in Moray after the RAF handover the station to the Army.
However, the team will change its name to RAF Lossiemouth MRT.
It was previously understood the team would relocate to Lossiemouth.