Stornoway water warning after Western Isles' dry summer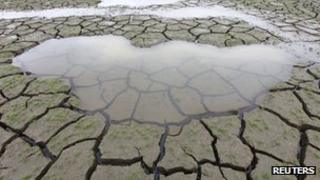 A fresh warning has been issued about the low level of water reserves near Stornoway.
Business Stream, a subsidiary of Scottish Water, has asked businesses to use water as efficiently as possible to ensure supplies of drinking water.
The north-west Highlands and Western Isles have experienced lower than average rainfall.
Scottish Water, which operates the national network, said it was monitoring water levels in the areas.
Non-domestic users in and around Stornoway have been asked to consider measures such as not washing vehicles.
Craig Watson of Business Stream said: "This is a temporary situation but it's important that essential water supplies are maintained so we're asking local organisations to consider how they use water and if they can use less until sources recover.
"There are a range of measures which can be quickly implemented and will all help to reduce water consumption. Our website has tips and advice which can add up to make a real difference."