An Island Parish's Eriskay priest Fr Calum MacLellan dies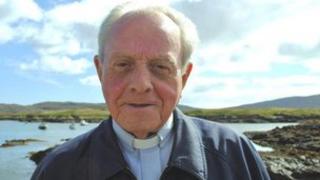 Eriskay priest Fr Calum MacLellan, who starred in the BBC's An Island Parish programme, has died at the age of 86.
He had been in poor health since last year and had been in hospital for the past few weeks.
His condition deteriorated and he died in Raigmore Hospital in Inverness early on Saturday morning.
Fr MacLellan was best known as a star of the BBC fly-on-the-wall series which followed the lives of three Hebridean island priests.
Born in Glasgow in 1926, his family returned to Eriskay, where he went to school.
He spent the whole of his priesthood in parish ministry in the Argyll and the Isles Diocese.
He was also the first vice-convenor of Western Isles Council when the Hebridean archipelago was unified under a single local government authority in 1975.
The Freedom of the Western Isles was later bestowed upon him for his contribution.
His television role was shared with Fr John Paul MacKinnon and Fr Roddy Macaulay.
Diocese Bishop Joseph Toal said: "His death was somewhat unexpected and a cause of much sorrow to his family, his fellow clergy, and the many people throughout the Diocese of Argyll and the Isles, Scotland and beyond who loved and respected him."