Nigg in Easter Ross suggested for scrapping nuclear subs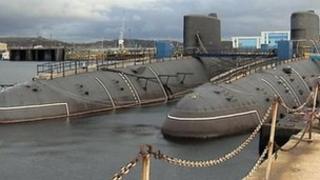 A fabrication yard in Easter Ross has been suggested as a location where nuclear submarines withdrawn from service could be scrapped.
Nigg was named by a member of the public in a consultation on how such boats should be dismantled.
The yard's owners, Global Energy Group, has told BBC Radio Scotland there was a clause in its title deeds prohibiting any nuclear work at the site.
The Ministry of Defence (MoD) proposes doing some of the work in Fife.
Seven subs are berthed at Rosyth and 10 at Devonport, another proposed site for dismantling work, in south west England.
Nigg is mentioned in the newly-published results of the consultation.
The former North Sea oil and gas fabrication yard was suggested because it is in a sparsely populated area.
Global Energy, which purchased Nigg last year, said submarines would not be scrapped there.
The company intends to develop the 238-acre (96.14 hectares) site as a service hub for the energy industry, and expects to employ 2,000 people by 2015.
Nigg has been suggested as a site for dealing with military vessels before.
In 2005, a UK company looked at breaking up US Navy vessels dubbed "ghost ships" at the yard, which was largely in disuse at the time.
Environmentalists were opposed to the plan and said the redundant ships were carrying toxic material, which the company denied.