Prometheus puppeteer tackles Scots grass weaver's story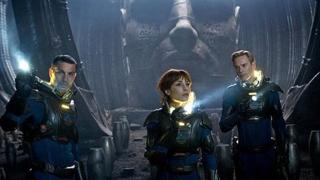 A puppeteer who worked on sci-fi film Prometheus is helping to tell the story of a psychiatric patient who wove intricate items from grass.
Derbyshire-based Mark Whitaker is touring with Angus - Weaver of Grass, a new play about Angus MacPhee.
MacPhee barely spoke after taking ill while serving in WWII. He made clothing and rope from grass and leaves.
The play has taken Whitaker to Tiree, Benbecula and Mull and will be shown in Glasgow and Edinburgh later this year.
He said: "Working on the play could not be more different from Prometheus ."
'Covered in goo'
The blockbuster was released in cinemas in June and marked director Ridley Scott's return to the Alien franchise.
Set about 40 years prior to the first Alien movie, it features Girl With The Dragon Tattoo's Noomi Rapace, Charlize Theron, Michael Fassbender and Idris Elba, star of The Wire and Luther.
The production also saw filming taking place on the Isle of Skye's Trotternish Ridge.
Mr Whitaker said: "There is not much I can say about Prometheus without a spoiler alert.
"What I can say is that we had a part to play in everything that makes you go 'yeuch' and hide behind the sofa.
"I spent quite a lot of time covered in goo."
Lancashire-based Horse and Bamboo Theatre's Angus - Weaver of Grass has been three years in the making and draws on stories about the soldier and research material.
'Moving experience'
MacPhee, who died in 1997, took ill while garrisoned on the Faroes and was admitted as a psychiatric patient at Craig Dunain hospital in Inverness.
Items he wove that escaped being swept up in the hospital's grounds and burned in bonfires with fallen leaves are held in a number of museums, including one in Switzerland.
Mr Whitaker said: "On Benbecula, we met surviving members of Angus's family and they were very, very kind to us.
"They told us stories about him that had not made it into books about him, took us to the croft where he was born and showed us a rock where he carved his initials before he went off to war.
"It was a really moving experience."