Sharks tagged off Scotland monitored online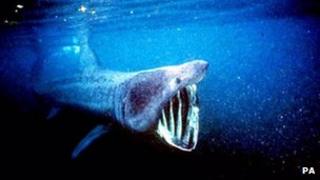 The movements of eight basking sharks can now be followed online, after scientists fitted them with satellite tags.
Scottish Natural Heritage and the University of Exeter hope to eventually tag 20 basking sharks found in the waters around Coll, Tiree and Hyskeir.
The project aims to gather new information on how the fish behave in the sea between Skye and Mull.
The tags will detach from the sharks after several months.
An online page has been set up so public can monitor the sharks' behaviour .
Basking sharks, the world's second largest fish, visit Scottish waters in the summer before swimming out to deeper water during the winter.