'Spectacular' Glenmoriston ant nests protected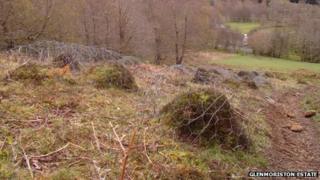 Colonies of an ant rarely found in the north Highlands have been given protection against birds.
Chicken wire has been rolled out over the yellow meadow ant nests to make it harder for pheasants and partridges to scratch up the insects.
Charity Buglife Scotland said the nests on Glenmoriston Estate in Inverness-shire were spectacular.
It added that the colonies were important because of their location in the Highlands.
Local woman Jane Bowman alerted estate staff to the heather and moss covered mounds.
Buglife said queens along with thousands of worker ants could be thriving in the colonies.
Yellow meadow ants can live for more than 20 years, spending most of that time underground feeding on aphids found on roots of plants.
The charity's Scottish director, Craig Macadam, said: "Yellow meadow ants do not sting, and pose no threat to man.
"The nest mounds in Glenmoriston Estate are spectacular and are rarely seen on this scale so far north, making them of great local importance."
Annie Girvan, of Glenmoriston Estate, said staff had followed Buglife's advice on how to protect the nests.
She said: "Estate staff Willie Jenkins and a local helper Graham Woods were happy to work with Buglife Scotland to preserve them.
"Also, thanks to a local lady, Jane Bowman who discovered them and made us aware of the importance of her find."
Other ant species have been given protection in the Highlands in recent months.
They include rare wood ants in the Cairngorms National Park.
In May, park officers said a project to replace steel electricity towers with smaller, less obtrusive, wooden poles between Etteridge and Boat of Garten in Badenoch and Strathspey should include measures to protect the insects.
Scottish narrow headed and also hairy wood ants were believed to be present along the line.
Ants are seen as playing an important part in forest and grassland ecosystems.
They distribute plant seeds and prey on creatures that harm trees and other plants.