'Worrying decline' in skylarks in Scotland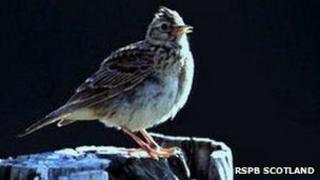 A well-known farmland bird has suffered from a "surprising and worrying decline" in numbers in Scotland, ornithologists have warned.
RSPB Scotland said the birds, which feed on the ground, were likely to have been severely affected by 2010's harsh winter.
The fall in numbers has been recorded in the British Trust for Ornithology's latest breeding bird survey (BBS).
The population shrank by 25% between 2010 and 2011.
Scotland had previously been regarded as a stronghold for skylarks.
The bird is well-known for its display flight. They fly vertically up in the air, often while in full song.
Kate Risely, survey organiser at the British Trust for Ornithology, said: "This is a surprising and worrying decline in Skylark numbers, which had been holding up well in Scotland until recently.
"BBS results are crucial in understanding the causes behind bird declines, and we owe this information to dedicated volunteer birdwatchers across the country."