Deal reached on fishing for west coast prawns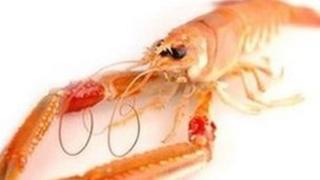 The Scottish government and fishermen have agreed a course of action designed to relieve pressure on prawn fishing off the west coast.
West coast fishermen have complained that trawlers from Scotland's east coast threaten this year's fishing.
They fear the EU limit on the time vessels are permitted to fish will be reached earlier than normal and the fishery will be closed.
Most east crews will be barred from the west until the end of the year.
The temporary measure applies to east coast registered vessels that did not fish for more than 60 days on the west coast last year.
The deal has been accepted by fishermen and processors on the Western Isles.
'Deep concerns'
While the quota for the west has been projected to last the year, there were concerns that the increased activity would see the annual "time at sea" constraints breached.
This would result in the early closure of the fishery, the government said.
Limits on the time vessels are permitted to fish are set for each geographic area under the EU's Cod Recovery Plan.
Fisheries Secretary Richard Lochhead said prawns have been scarce in the North Sea.
Biological factors had led to the shellfish appearing later than normal, and vessels that normally fished in the North Sea had shifted to the west coast.
Mr Lochhead said the government wanted to make sure fishermen caught their quotas.
He said: "I recognise the deep concerns of the industry over this issue, therefore its important government takes action to ensure west coast fishermen have their time at sea to catch their full prawn quotas this year.
"With the temporary measures we now have in place, I'm confident the usual fishing season can continue."
'Incredibly important'
Mr Lochhead added: "I want to emphasis that this issue has been caused by two factors.
"Firstly, the unusual scarcity of prawns in the North Sea that has lead to effort change and, secondly, this is not about quota availability but rather having the necessary days at sea to catch quota."
Alan Coghill, president of the Scottish Fishermen's Federation said: "The prawn sector is an incredibly important part of the Scottish fishing industry, which needs full backing at all levels.
"Policies and measures need to be in place to ensure that fishery can be worked in a proper fashion that enables businesses to plan ahead and fish profitably and sustainably. This patently has not happened in this instance.
"This situation underlines the need for both the UK and the Scottish government to vigorously restate the case for reviewing and amending the Cod Plan before the end of 2012. The present situation is a prime example of a regulatory process which does not work and is likely to cause major economic and social problems across the industry from net to plate."