Inverness pool says long swim lessons waits resolved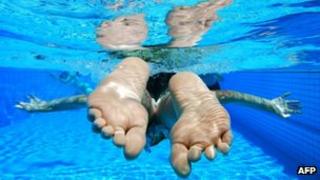 Bosses at Inverness's biggest swimming complex are confident they have solved problems with long waits for children's lessons.
In 2010, Inverness Leisure, which teaches more than 2,500 children every week, said the wait for slots could be up to two years but was generally less.
A manager has spent a year reviewing the site's Learn to Swim scheme and devising improvements to it.
One of the main changes will be to the Parent and Toddler lessons.
This will be replaced by a new Adult and Child five-stage, six-week block activity programme.
Inverness Leisure said that at the end of the block parents will be given an information leaflet on what they have been learning and how they can continue to their child's confidence in swimming pools.
Other changes to the running of children's swimming lessons have been set out on the company's website .
'Was unfair'
Eilidh Maclean, activities development manager, said under the previous system children could become "locked in", making it difficult for new people to book slots.
She said a child could have joined the scheme aged six months and remained in the programme until their parents decided to remove them from it.
This was happening even when children were competent swimmers and no longer needed lessons.
Ms Maclean, who carried out the year-long review, said: "I noted that once a child was in Parent and Toddlers that they effectively had their place from then on.
"I felt that this 'lock-in' position was unfair as there is only so much a baby can learn in the early years, but despite this other new parents and babies could not access the scheme as we had neither the pool space nor teachers available.
"In the new scheme, the criteria focuses much more on helping the adult with skills and practices they can use with their child outside of the lesson programme."