Rare mishmi takin born at Highland Wildlife Park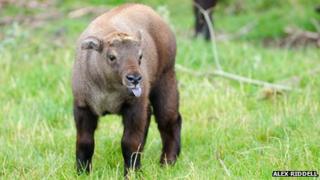 A mishmi takin calf nicknamed Hobbit has been born at the Highland Wildlife Park, near Kincraig.
The park has a herd of the goat antelopes and Hobbit is its first baby since 2010.
Takins are native to Bhutan, India, northern Myanmar and border areas of China in the eastern Himalayas.
Numbers have been reduced in the wild by hunting for their meat, use of body parts for traditional medicines and habitat loss.
The golden colour of mature males' thick shaggy coats is believed to be an inspiration for ancient stories of the mythical golden fleece.
The animals also produce a strong smelling oily substance which covers their coat to create a natural "raincoat".