Doctor Who's Karen Gillan pictured in Doctor Who's arms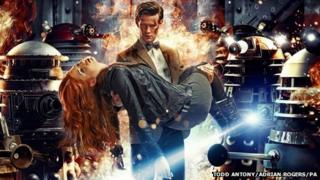 An image of Scots actress Karen Gillan in the arms of Matt Smith's Doctor Who surrounded by Daleks has been released ahead of the show's latest series.
Gillan, from Inverness, leaves her role as Doctor Who companion Amy Pond in series seven, which will be screened on BBC One later this year.
Her career beyond the time travelling, science fiction show include film roles.
She has secured the lead in a US horror, according to the Radio Times.
In Oculus, she will play Kaylie whose brother is convicted of murdering their parents.
Kaylie believes an antique looking glass was responsible.
The Radio Times reported that filming was due to begin on the project in Alabama this autumn.
Gillan, 24, is also to appear in Not Another Happy Ending, a film set in Scotland about an author with writer's block.
She has also played 1960s model Jean Shrimpton in BBC Four drama We'll Take Manhattan.