Highland Estate house completely destroyed by fire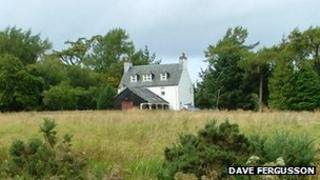 A remote 18th century estate house on the shores of Loch Alsh in the west Highlands has been completely destroyed by fire.
The blaze broke out at Ardintoul House, near Glenelg, on Sunday night. Fire crews were called at about 23:30.
Despite the efforts of 17 firefighters, the emergency services were unable to save the building, which was believed to have been unoccupied at the time.
No-one was injured and an investigation has been launched.
The house, on the southern shore of Loch Alsh, was built in the 1700s for the MacRae family at about the time of the destruction of their nearby hereditary stronghold Eilean Donan Castle.
The two-storey building can only be reached by about five miles of landrover track.
Firefighters have been unable to enter the building as it is now structurally unsafe and are continuing to dampen down the last hot spots.