Raigmore Hospital cleanliness 'poor'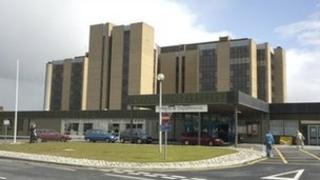 Standards of cleanliness in wards at a Highland hospital are "poor," according to inspectors.
The Healthcare Environment Inspectorate (HEI) paid an unannounced visit to Raigmore Hospital in Inverness in June.
Their report found nine areas where immediate improvements had to made, including cleaning wards to NHS Scotland national specification.
NHS Highland said it was disappointed but work was already underway to address the concerns raised by HEI.
The report also found senior charge nurses did not have, but should have, full responsibility and accountability for domestic cleaning in their area.
'Infection control'
Compliance with standard infection control precautions was said to be varied throughout the wards inspected.
Raigmore Hospital also failed in communicating clearly and effectively between the infection control team and other staff, the inspection found.
HEI chief inspector Susan Brimelow said: "We found that NHS Highland is complying with some of the standards to protect patients, staff and visitors from the risk of acquiring an infection.
"There was good awareness and implementation of isolation procedures for patients with known infections.
"However, we found that the standard of cleaning in the wards we inspected was poor, and compliance with standard infection control precautions was varied."
The hospital was praised in the report for having up-to-date audit and surveillance data displayed on the majority of wards inspected.
NHS Highland said the findings were "disappointing".
'Action plan'
Una Lyon, lead nurse for Raigmore Hospital, said: "The Senior Management Team is obviously very concerned about the findings from the HEI report, which highlights areas where practice has fallen below the standard we would expect and this is unacceptable.
"Where necessary immediate action has been taken to address the issues and the team is actively implementing the action plan to ensure that the improvements are made and sustained."
Royal College of Nursing Scotland director, Theresa Fyffe, said: "It's those at the top who set the tone or culture of the organisation.
"We have been saying for some time that NHS Highland has taken its eye off the ball at Raigmore Hospital to focus on extensive and, we believe, unnecessary, structural change to integrate health and social care.
"All the requirements in this inspection report must now be implemented in full."