Disused Rogart auction mart sells at auction for £50,000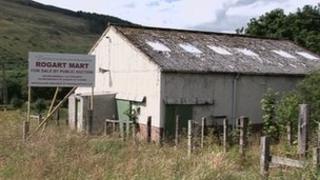 An auction mart in Sutherland has itself gone under the hammer, selling for £50,000 at auction.
The Rogart auction mart fell into disuse after the major outbreak of foot-and-mouth disease nearly 12 years ago.
At its peak back in the mid-20th Century, more than 10,000 lambs were known to go through the Rogart ring in a single day.
It is understood the site will now be redeveloped for housing.
Local resident George Murray can remember the mart back in its heyday.
He said there was a sadness in the older generation that those days had gone.
Lost camaraderie
He said: "It was a great experience. It was a fantastic day out.
"I think many of us regret the closure of this mart, because there was a camaraderie, something you don't have in the large marts."
But he added: "The industry as a whole has changed so dramatically, there is no way the small mart could exist with present regulations."
The building was closed down following the 2001 foot-and-mouth crisis because its wooden pens and dirt flooring were no longer considered suitable for use.