Wester Ross rescuers free Newfoundland dog stuck in hole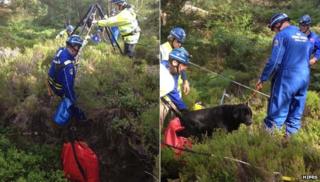 A dog has been rescued after spending a night stuck down a 7.6m (25ft) crevice in Wester Ross.
Fyrish, who weighs 45kg (100lb), was pulled from the hole on Sunday night after going missing the previous day.
Coastguards from Gairloch and Loch Ewe and firefighters were called to the scene near Gairloch. Stornoway Coastguard co-ordinated the rescue.
The Labrador-Newfoundland cross was hauled out of the crevice using a sling before being reunited with his owner.
Stornoway Coastguard said: "The owner found the dog and it was important to stop him going down and also getting stuck too.
"The animal appears unhurt but because of its size it presented a challenge for the teams.
"But in the end it was a happy ending."