Scottish research reveals feeding habits of toxic alga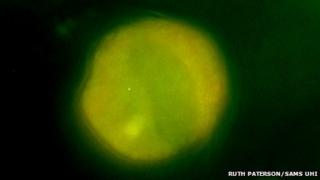 New research has shed light on the feeding habits of a microscopic toxic organism that makes shellfish in Scottish lochs poisonous to humans.
Alexandrium tamarense, an alga, drifts on sea currents into sea lochs along Scotland's west coast.
Harmful strains of the single-celled marine organism can make people seriously ill.
An Argyll scientist's research suggests the toxic strain is a voracious feeder and this behaviour boosts its growth.
Ruth Paterson, a student at Oban's Scottish Association of Marine Science UHI, started her research into the feeding habits of A. tamarense last year.
Her work has been supported by grants from the British Phycological Society, a charity devoted to the study of algae.
Toxic strains of A. tamarense affect sea lochs almost every year.
The Scottish government and local authorities, such as Comhairle nan Eilean Siar on the Western Isles, issue warnings urging people not to eat shellfish when the harmful algal blooms occur.
Ms Paterson has been investigating how much food both toxic and non-toxic strains of A. tamarense consume.
The alga ingests other tiny single-cell organisms.
Under laboratory conditions, the prey was given a fluorescent dye which glows under a UV lamp in a microscope, and makes the cells visible once ingested by the alga.
Ms Paterson said: "Results were promising.
"The toxic strain showed more glowing blobs than the non-toxic strain, but we needed more data."
Her latest research investigates the ability of A. tamarense to burst other single-cell organisms and potentially steal their internal nutrients to boost their own growth.
Ms Paterson said: "I am very excited to see the results, but I still have a few weeks left to carry about experiments."
Her research has appeared in The Phycologist newsletter, has been presented at conferences and won her the Scottish Association of Marine Science UHI student of the year award.
She hopes the results of her work will lead to ways of better protecting shellfish harvests.