Highlands project aims to cut a million car miles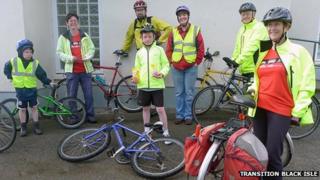 A new project is aiming to reduce the number of car journeys in the Highlands by a million miles each year.
People living in the Black Isle hope to make more journeys by public transport, car sharing and bicycles instead.
Led by community group Transition Black Isle, the three-year project aims to cut annual car mileage by 1% in the area.
The scheme received £194,741 of funding from the Scottish government's Climate Challenge Fund.
Environment Minister Stewart Stevenson officially launched the project on Tuesday.
Transition Black Isle director Martin Sherring said there were a number of reasons why people wanted to reduce the use of their cars.
He said: "Before we kicked off this project, we carried out a survey of local attitudes to travel and found that 71% of those who responded were keen to reduce their car mileage.
"We also asked about why people want to reduce their car use, and found the main motives were split fairly evenly between concern about climate change and wanting to cut costs."
Another project, Green Great Bernera, has received £68,500 from the Climate Challenge Fund.
The scheme will grow fruit and vegetables for local consumption in greenhouses and polytunnels designed to stand up to strong winds that affect the island of Great Bernera.